This week in Production Ready - Issue #6
Karma and Psyc Safety, Survivorship bias and Bootstrapping pain points.

Bootstrapped Business Spotlight 🔦
WFH and remote meetings are tough. Most companies are struggling to keep their employees engaged. A pandemic will do that. This businesses has found a way to bring employees together at a time when it's needed most.
Our spotlight this week is on Karma. A bot that integrates with Slack, Teams and Telegram to foster a culture of positive feedback. Their mission is simple: Build stronger, happier teams. Set goals, track performance and reward excellence.
The company was founded two and a half years ago by Stas Kulesh and David Kravitz. Stas has an interesting background. In his own words:
I grew up in the far-easter part of Siberia, studied Computer Science and Nuclear Physics, played in a band, got excited by the indie-games making and left the uni to become a digital designer.
He started his career as a web designer/developer. And Karma bot came about as a spinout from his services business Sliday. Although the company feedback space was crowded, the concept of integrating a feedback tool directly into a chat tool was novel. It was a new component in the appreciation field. They saw it work with their own team so they decided to productise it and sell it externally.
The Karma bot can be downloaded in the Slack and Teams app stores. Once integrated, anyone can then provide Karma directly to a colleague or team. When you provide Karma, you then receive Karma points which can be redeemed for real-world perks. These are set up by each company and typically range from gift cards to days off and paid vacation.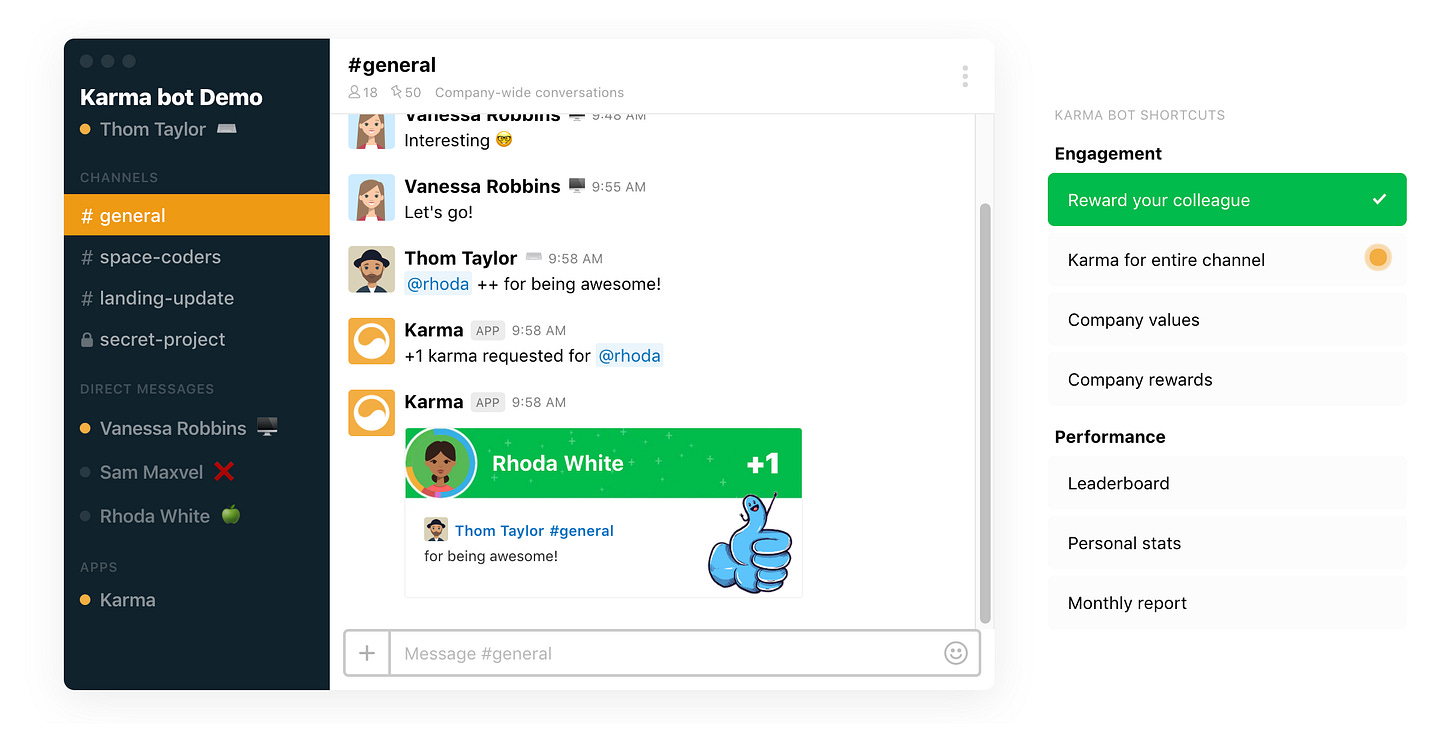 Since inception, the company has grown 3x every year. They're currently doing ~$20k MRR and on track for $250k ARR by the end of the year. This revenue comes from 250 paying companies with 10k active users in total. Amazingly, their annual churn averages under 1%. So the product is sticky and once integrated, it becomes a habitual part of their customers workflow.
They haven't spent anything on marketing and the majority of their leads come from the stores themselves. This has helped distribution a lot but it has also come with some classic platform risk. It turns out that their biggest competitor Disco received investment from the Slack fund. So they've struggled to get more prominent placement in the Slack app directory.
Even still, they land around 700 trials a month and about 4% of these convert into customers (20/30 per month). Karma has been profitable since January. They're running lean with a team of 6 in total (4 full time including the two founders).
Longer term, their goal is to decouple from the chat apps that helped get them off the ground. They know that a web app would appeal to a much larger market. So they intend to make some R&D investments to open up their offering to more customers.
Overall it's hard to argue with this strategy for a bootstrapped company. Find a large established market that's growing. Identify a novel way to differentiate from the crowd. Then use that beach-head to expand into complimentary markets once the brand and product have been proven out. And if Karma can continue to grow 3x YoY, they're going to be a sizeable player in the HR tech space. I wish them all the best! 🤞
Trend 📈
On the surface, Karma might just look like a gamification tool to improve culture. I'd argue though that feedback is one of the key enablers of trust. And trust leads to psychological safety which is the foundation for any high performing team. So the macro trend here relates to Psychological Safety as a Service (PSaaS).
Harvard Business School professor Amy Edmondson defines psychological safety as:
'a shared belief held by members of a team that the team is safe for interpersonal risk-taking. It describes a team climate characterized by mutual respect in which people are comfortable being themselves.
Google famously spearheaded an effort to unearth any secrets about effective teams at the company. Code-named Project Aristotle — a tribute to Aristotle's quote, "the whole is greater than the sum of its parts" — the goal was to answer this simple question: What makes a team effective at Google?
The researchers discovered that it wasn't about who was on the team. It more about how the team worked together. The number one predictor for a successful team was whether or not that team exhibited high psychological safety amongst its members. If this factor existed, people felt engaged and motivated to do good work.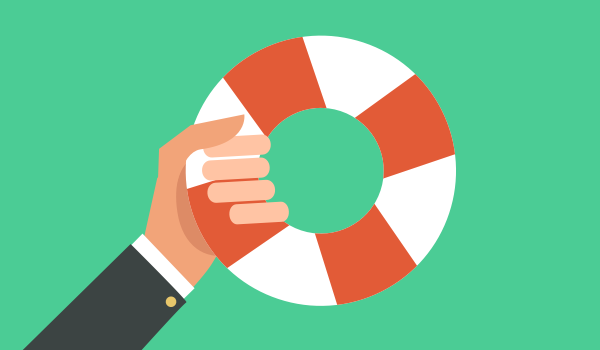 Even before the pandemic though, workers have been disengaging. Gallup ran a survey on 27 million employees and found that:
Only 30% of employees are engaged at work.

Only 35% of managers are engaged at work.
COVID has obviously compounded this problem. Think of the millions of knowledge workers who have joined companies during lockdown. A huge number have never actually met their colleagues face to face. Zoom onboarding calls aren't the same. Team bonding doesn't happen by accident. Water-cooler discussions still matter.
This means there's a massive opportunity to provide that social fabric to support growing teams. It's damn near impossible to foster a sense of belonging if that underlying psychological safety layer is missing. Remote work is here to stay. So teams will need to be more deliberate in how they create that environment of trust.
I expect to see more and more bootstrapped companies carve out successful niches in this space. Like Karma, they may start out solving their own internal issues across distributed teams. Then they can scale out solutions to other customers. There's a latent need for PSaaS products and this need isn't going away any time soon. 🔮
Interesting Reads 👓
Early Work — Paul Graham
Survivorship bias: when failure gets forgotten — Anne-Laure Le Cunff, Ness Labs
It Takes Time — Pat Walls, founder of Starter Story
From An Airtable To $9.2k In Side Income — Gene Maryushenko
The Hyper Freelance Model — Ben Issenmann
The Startup Success Delusion That Put Me In Hospital — Kyle Gawley
Worthy Podcasts/Videos 🎙📹
Nat Eliason gives some practical advice on how to validate an info product before going through the effort of creating it & selling it.
Corey Haines, former Head of Growth at Baremetrics, talks about becoming a full-time Indie Hacker.
Helpful Products/Tools 🛠
Answer the Public — discover what people are asking about on the internet
Subreddit Stats — a list of subreddit rankings and breakout groups
The Membership Guide — a practical guide to launching a membership program and establishing membership routines
Zero to Users — analysis of 482 founder interviews to discover the most impactful customer acquisition strategies
Twitter List of 'Folks Building in Public'
And from the Twitterverse...
This is a great authentic post about the difficulties of bootstrapping a business — written by Geoff Roberts, founder of Outseta ✅
I think a lot of readers can probably relate to this one. The timelines might change but the trough of sorrow is real for any startup. It reminds me a lot of the 6 stages in any creative process 😅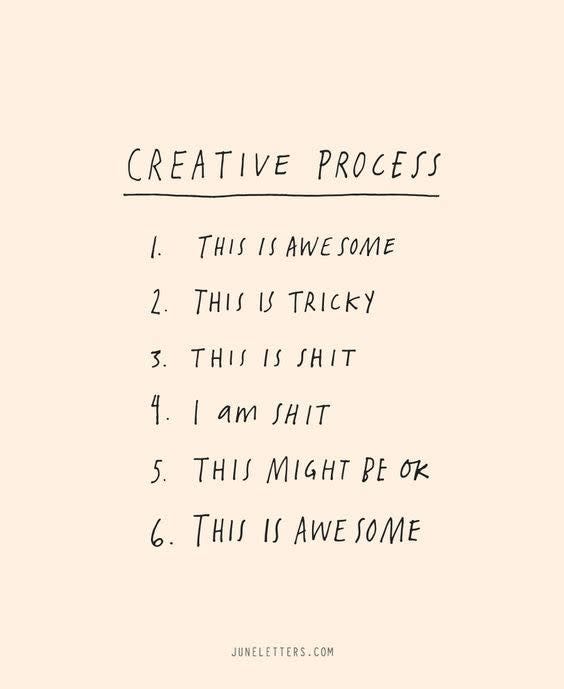 ---
That's a wrap for this week folks. Thanks for reading 🤙
Best,
Craig.