This Week in Production Ready - Issue #7
Judge.me and the Trust Gap, Pricing SaaS products and Flywheel effects.

Bootstrapped Business Spotlight 🔦
The founder of this company will spend most of this winter skiing. He's got a full team that runs the business for him. Yet he still owns 95% of a fully bootstrapped company that's on track to turn over $2m this year.
The product is Judge.me — a Shopify app that powers product reviews for ecommerce stores. Shopify recently featured the app on their blog:
After considering several ideas for the Judge.me domain, one of them a dating site, PJ decided to go all in for a products review and customer feedback app built using the Shopify API. Judge.me came to life with the vision to build the best review app currently out there at the lowest possible price.
The goal of the product is to help store owners generate positive reviews which drives conversion. So they're selling social proof — and it's working! In the last 30 days over 80k online shops generated nearly 1m product reviews through the app.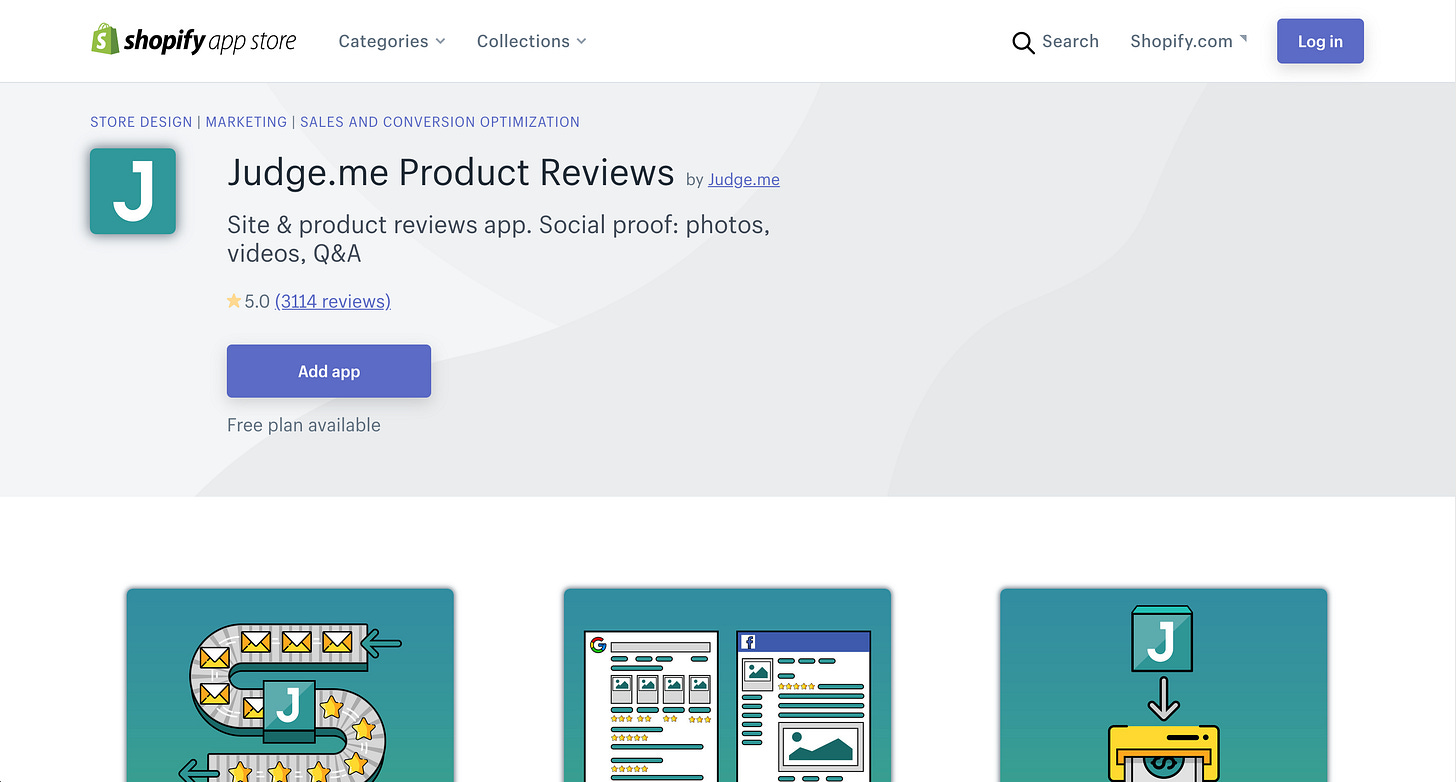 Peter-Jan Celis (PJ) founded the company in Saigon, Vietnam in 2015. It's a pure SaaS play with a free offering and a $15 per month paid plan. About one third of his base are on the paid tier. The product has been positioned as a price breaker in its category, providing the service at the most affordable price.
As a result, they've grown revenue by 85% in the past 12 months. They're growing users faster than revenue (12% MoM vs 4% MoM). That's partly thanks to some clever growth hacks. For example, they recently introduced the ability to integrate any customer's AliExpress reviews into their Shopify stores.
Interestingly, PJ and team have done zero marketing outside of the Shopify App store. So the only customer acquisition cost is the 20% cut that Shopify charge on revenue. This equates to a CAC of $36 for every annual plan of $180 or just a two month payback period.
It also means that the team has been able to focus 100% on product development and on improving the customer experience. They don't need to think about marketing channels. Of course, the tradeoff is that it's harder to grow outside of the Shopify ecosystem. Less than 2% of their customer base are on WooCommerce or other stores.
Even still, the company has been profitable for a while. They currently have net margins of around 40%. Logo churn is 7.5% per month which is relatively high and something the team is actively trying to reduce. To get their customers to stick, Judge.me nudges them to install the app widget to display on the front-end of their product page store. From there they can then start generating reviews instantly and hopefully see the value in the app.
Their headcount is still relatively small at around 15 folks. That includes the new CEO, a few engineers & product designers plus a support team. Previously, PJ had reinvested most of the profits back into the team and business to help it grow. Otherwise he felt like he was taking money from customers and not improving the service. As PJ calls out:
The essence of a business is creating a customer. If you focus on that customer and not on yourself, you will already be ahead of most of the competition. Then show up for work every day but don't overwork yourself.
His thinking has now evolved and he's more comfortable taking profits out of the company. He feels this is a better strategy longer-term to ensure that you have a healthy and viable business.
At the moment he's also building out new marketplace for spirits called Whiskey.com. Given the impressive run of Judge.me, I've no doubt that he'll be able to generate plenty of positive reviews for his next venture too 🥃🌟
Trend
📈
Demonstrating social proof to help sell a product is obviously nothing new. BrightLocal recently showed that 86% of consumers consider online reviews when making a purchase.
This underlying trend relates to a broader issue. I'm referring to the Trust Gap that's only widening in society. You know we're in trouble when a college student can use an AI model to write fake blog posts that reach the top of Hacker News. The HN audience is supposed to be one of the most discerning groups out there. And they got duped!
This emerging technology also comes at a point, according to Edelman, when traditional institutions are failing us:
Government and politics are seen as corrupt, ineffective and the ally of stasis

Media has been permanently damaged by fake news and its impact on democracy

NGOs are now playing less of a role on the world stage

Businesses have been hit hard by COVID and capitalism can't solve everything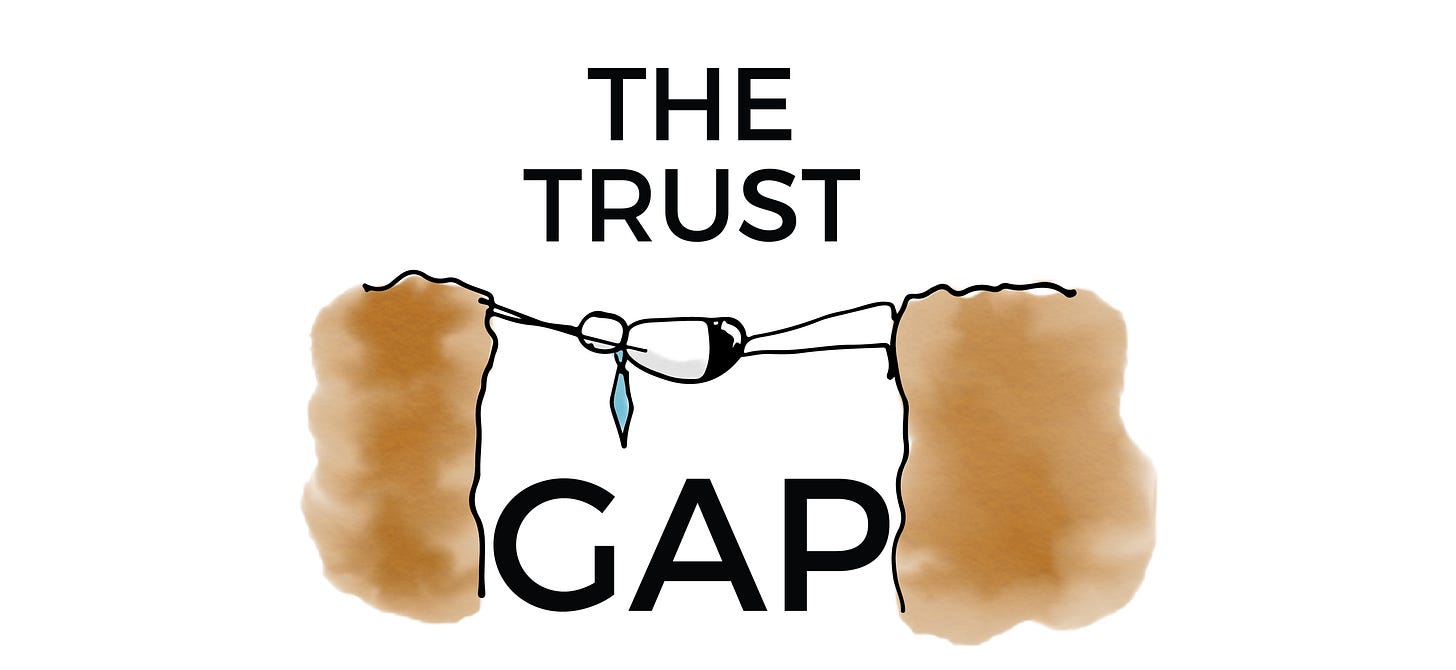 And if you look around, even some of the products selling 'trust' are a scam. In a great piece of research, Danny Richman studied 9 million Trustpilot reviews. He found that:
the average rating for businesses using Trustpilot's free services is 3.81.

the average rating for businesses using Trustpilot's paid services is 4.76.

11.3% of all businesses listed on Trustpilot use their paid service (costing between £165-£1,000 per month).
a Trustpilot rating is heavily weighted by both the recency and quantity of reviews. Businesses using Trustpilot's paid services to send automated review invitations are significantly more likely to have a larger quantity of recent reviews and, therefore, a more positive Trustscore than a company using their free service.
Combined with the process of 'review gating' (filtering out negative reviews), it's clear that the incentives between consumers, businesses and Trustpilot are badly misaligned. And in this Mexican standoff, it's the consumers who come off worst. Despite this, Trustpilot gets over 40m visits a month putting it in the top 1% of most-visited sites globally.
So the trust gap is getting wider and the services that sell trust are falling short. What does that mean for bootstrappers and indie makers?
Union Square Ventures latest thesis actually focuses on the opportunity that this Trust Gap creates for startups.
USV backs trusted brands that broaden access to knowledge, capital and well-being by leveraging networks, platforms and protocols.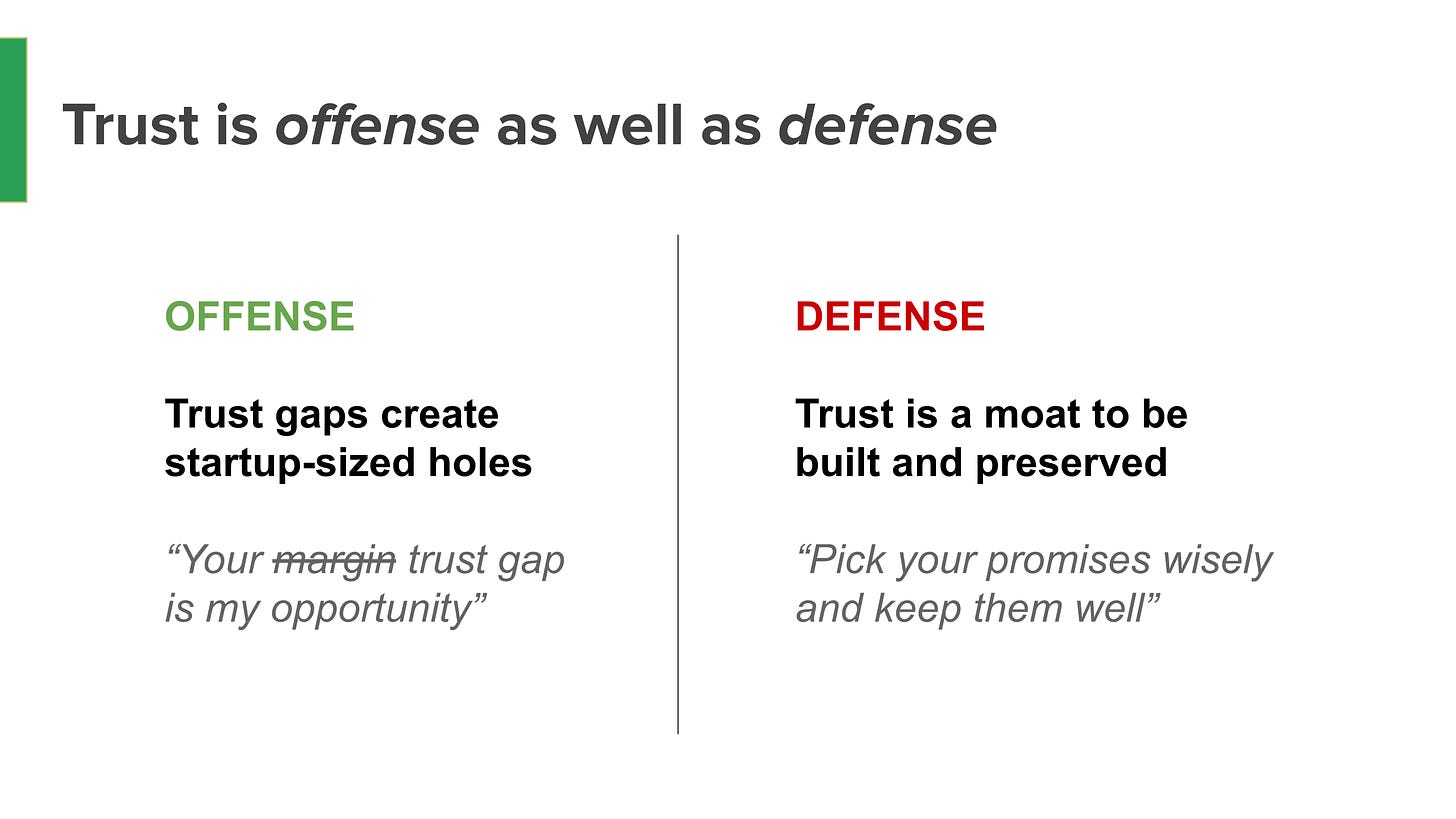 Trust can be used offensively to find new problems to solve. It can also be relied on as a defensive moat for brands that can build and maintain trust with their customers. It's a strong differentiator.
A tsunami of deep fake videos, voice messages and other content is coming. Incumbent services like Trustpilot aren't delivering on their promise of objectivity. So this will open up whole new categories of products that bootstrappers can create and sell to build consumer confidence👌
Interesting Reads 👓
How to price your SaaS product — Patrick Campbell (Guest Post w/ Lenny Rachitsky)
6 Lessons I Learned from Nathan Latka — Jacob Greenfeld
The 10 minute No-Nonsense guide on building the perfect Landing Page — Bilal Tahir
Syllables, Scrabble Letters, and Picking Brand Names — Rich Barton
20 Acquisition Channels — Vaibhav Namburi
Worthy Podcasts/Videos 🎙📹
Chamath 'SPAC' Palihapitiya might be at the other extreme end of the bootstrapper spectrum but this 3 min video with Shane Parrish about 'imposter syndrome' was authentic and refreshing. He's IPO'ing multiple companies and still suffering from this gem 💎
This is a great interview between two SaaS experts — Rob Walling of Tiny Seed and Courtland Allen of Indie Hackers. They discuss what's new in the land of SaaS and how indie makers can carve out a successful niche 🔪
Wilhelm Klopp opens up and explains how he built Simple Poll into one of the most popular Slack apps of all time 🤖
Helpful Products/Tools 🛠
The Animalz Content Marketing Benchmark Report 2020 — analysis of 150m pageviews from SaaS companies and their approach to content marketing
Monote — lets you bookmark products to find them again later
Pitchdeck for Figma — Create beautiful pitch decks straight from Figma
Cloakist - Customise all your public sites
Nameboy — AI domain name generator that actually works
And from the Twitterverse...
It's hard to argue with Tyler's point here. He's putting skin in the game and encouraging a whole new generation of calm companies through Earnest Capital 🧘‍♂️
I thought this old flywheel graphic from Disney was kind of amazing to see. In this case the map is kind of the business territory. Who else is thinking about their business in this way? HT to Charlie Ward for digging this one up 🗺
A solid thread on how to measure product-market fit across both network effect and non-network effect companies 🎯
---
That's a wrap for this week folks. Thanks for reading 🤙
Best,
Craig.